Sliding Door Repair in Fort Lauderdale
Sliding doors need regular maintenance and repairs to keep them in top-notch condition. However, fixing most of these damages can be challenging for an unqualified person. But at 24hr Door and Frame Service, we have the necessary tools & utilities, plus skilled technicians to handle all sliding door-related issues.
Who Are We
24hr Door and Frame Service is a homegrown and family-run company offering professional and emergency sliding door repair services in Fort Lauderdale. With over a decade in the repair industry, we value our customers. We provide honest, affordable, and quality commercial & residential services, including sliding glass door repair, window screen door repairs, sliding door broken glass repair, and lock replacements.
All our services meet the client's needs and comply with Fort Lauderdale construction regulations.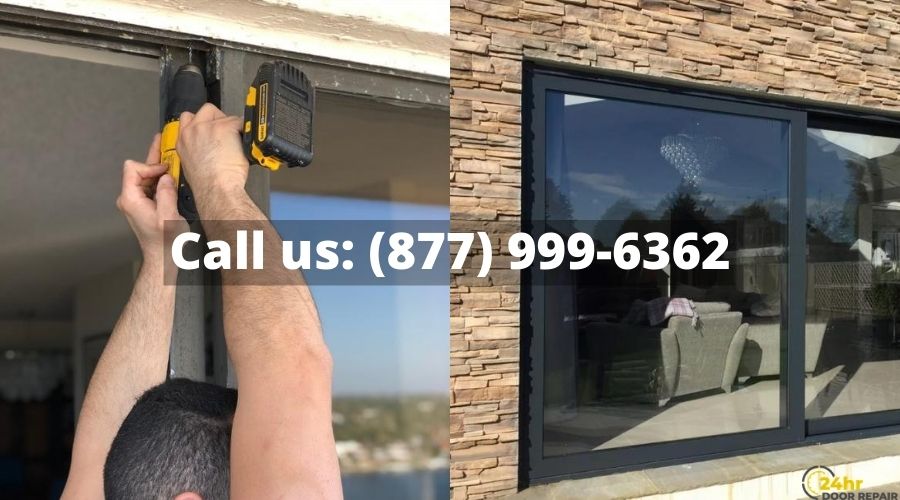 Common Sliding Door Repair Problems
Today, most homes have interior and exterior high-quality modern design sliding doors utilizing space. These doors are popular with homeowners who want value for their money. Regardless, patio door repair and maintenance are necessary to guarantee extended service.
Here are some common sliding door repair issues you might experience in 2022.
Sliding door stuck?
Well, opening or closing a wedged sliding door can be challenging. Dirt, debris, or mud build-up are among the most common contributors for stuck sliding doors. Misaligned tracks & rollers also make sliding doors stick. Again, sliding doors with old components and damaged rollers will have the same problem.
Delaying to fix the problem will extend the hardware damage. But cleaning the tracks regularly helps solve minor issues. Although, it requires a technician to repair or replace severely damaged parts.
Fortunately, at 24hr Door and Frame service, we understand how to troubleshoot and repair all stuck sliding doors.
Noisy sliding door?
Noisy sliding doors are irritating: In most cases, old or frequently used doors create unbearable noise at home. Poor maintenance and greasing of the moving parts, typically, cause noise around the hinges. These joints can also rattle continuously apart from making sounds while opening or closing the door.
As a homeowner, you must install quality door proofing against the wind to avoid it from causing vibrations and other intolerable noises. Lubricating the rollers and track will also make the door parts slide like new. Tightening all screws and joint components will also eliminate the rattling sound.
How to fix a sliding door that won't slide?
If your sliding doors won't slide, the problem might be with the tracks or rollers in most cases. These components, usually, do not move if there is resistance.
Lubricating the rollers can help deal with friction between them, making the door move with minimal effort. If that does not help, check and remove debris or dirt from the tracks. Use a vacuum cleaner to suck all dirt from the hard-to-reach spots.
In severe cases, an inward bent track might also be another issue making the sliding door misbehave. Here, a close inspection is necessary to identify the area limiting proper movement for repairs. Remove the door and replace the track, plus you can adjust the rollers in the process.
A sliding door doesn't glide smoothly?
Dirt, debris buildup, or dried fluids on the track cause gliding issues with sliding doors. The clogging hampers the smooth movement of the door. However, vacuuming the track and wiping it with alcohol before lubricating it will solve the problem.
Friction between the parts can also have a similar effect on a sliding door. If this is the case, lubricating the track and rollers with a thin film of grease is necessary to improve the door's performance.
Other sliding door problems
Here are other issues you might observe with sliding doors apart from the sliding door problems mentioned above.
Damaged parts: Using force when closing or opening sliding doors will damage its parts. Still, a wooden door knob can rot, and steel designs deform. Luckily, sliding glass door repair and replacement of damaged parts will fix the problem.
Faulty locks: Locking systems are essential for security, especially for the front door. Faulty locks in sliding doors happen because of the mechanism's misalignment or damaged parts.
Main Causes of Door Malfunction
Knowing the cause of sliding door malfunction help with preventative maintenance and speeds up the repair process. Here are the top factors to consider.
Contamination of the rack. Rack contamination corresponds to the sliding door's construction material. Exposure to external factors leads to the degradation of the components and malfunctioning. Contamination will damage the racks and make it challenging for the door to glide.
Roller wear. Friction between the rollers and the track will cause wear and tear. The extent level, however, depends on the frequency of using sliding doors. Low-quality rollers will degrade quickly creating additional expenses and frequent replacement. Roller wear will damage the track if neglected. New components will return the sliding door to its optimum functionality like it is the first time using it.
Warping of the rail. Rail warping in sliding doors happens over time and will create dents on the surfaces or spaces between components. Sometimes the damage will not be visible to the eyes. The situation can cause damage to other parts and house items by letting water in. trying to fix the problem without the required skills and kit will make warping worse.
Loosening of the structure's fasteners. A sliding door malfunctions and becomes weak due to loose components. Screws hold parts and make them firm, but continuous will loosen them. It weakens the sliding door, and the elements will detach from each other.
Sliding Door Repair Services
24hr Door and Frame Service has a professional team of technicians offering holistic solutions to Fort Lauderdale residents. Our company offers professional commercial & residential sliding door repairs in Florida.
We take a hands-on approach to serve our customers and have a warranty for our services. Here is what we can do;
Sliding door replacement and installation. 24hr Door and Frame Service can redesign your residential or commercial property door. We have qualified personnel to install a new door and replace the old system. Choosing professionals in the industry gives a return on your investments. Besides getting skilled technicians, the hardware is durable.
Sliding door rollers & wheels repair. You can trust 24hr Door and Frame Service to handle sliding door rollers and wheels repairs for optimum functioning. Our skilled technicians ensure quality work: The service includes repositioning and replacing worn-out components. It saves you money in the long run from recurring replacement costs.
Repair sliding door track and rails. Sliding doors become inoperable because of damaged tracks and rails. Also, it is a security risk if the panel slides out of position. Professional sliding door repairers know how to diagnose the problem with tracks and rails. Our technicians respond to emergencies for malfunctioning doors.
Commercial sliding door repair in Fort Lauderdale. Repairing a commercial sliding door is cheaper than replacing it. Luckily, our technicians can identify and repair minor or more significant damages. 24hr Door and Frame Service has experts in commercial sliding door repair. We do not charge extra for the problem diagnosis.
Screen door repair. This is a complex job that requires trained personnel: Luckily, our specialists can remove the window from the frame and replace the broken piece safely. Professional technicians will prepare the surfaces during screen repair and replacement. 
24hr emergency service. 24hr Door and Frame Service has enough personnel working round the clock: A technician will always be available whenever you need them. 24/7 service ensures customers get assistance as soon as possible to avert broken sliding glass doors' security and safety risks.
Our Service Area in Fort Lauderdale
Door Types We Work With
24hr Door and Frame Service is a leading sliding door repair company. We can work with different raw materials, including wood and steel. Furthermore, our technicians are familiar with different patio sliding door designs and other spaces.
Here are the types of products we work with;
Security doors
Patio doors
Interior doors
Fiberglass doors
Entry doors
Decorative glass doors
Storm door installation
We offer sliding door repair in Hallandale Beach, sliding glass door repair Hollywood and Lauderdale Lakes sliding door repair for our customers.
Our Step-by-step Sliding Door Repair Process
We take all repairs seriously at 24hr Door and Frame Service. The initial step involves diagnosing. Afterwards, our technicians will identify the problem and gather all the necessary tools to complete the tasks.
Here is a detailed step guide for the entire standard sliding door repair process.
Step 1: Schedule a meeting with our technicians who will come and analyze the extent of the damage.
Step 2: Identify the fault. Our technicians will check if it's the rollers, tracks, frame, or glass causing the problem.
Step 3: In this step, our mechanics will troubleshoot and repair the damage using all the essential tools. Typically, it takes less than a day to complete the task, no matter the size of the damage.
Step 4: Our tech team will confirm if everything is okay before leaving your home.
Why Choose Us as a Sliding Door Company
There are several factors making us the best repair company in Fort Lauderdale, and here are the main reasons you need to consider our services.
First, we are a reputable door and frame service provider with qualified technicians offering affordable sliding door repairs.
Secondly, our company is licensed and insured by South Florida's construction laws to conduct door repair services. So, we guarantee value for your money.
With absolutely no hidden fees, you will get the exact quote from our logistics team. You will never pay more after our technicians complete your home-based sliding door repair.
At 24hr Door and Frame service, we ensure same-day repair. No task is too big for our team. From minor track or roller replacements to major commercial glass board-up services, we deliver efficient results on the specified date. We offer affordable repair fees on all repairs. At 24hr Door and Frame, we make sure our customers are satisfied. So, all repairs are budget-friendly with convenient payment plans.
Apart from offering one year warranty on all sliding door installations, we guarantee 100% customer satisfaction. Lastly, we use quality materials on all sliding door repair kits. We use heavy-duty wheels, rollers, glass panes, frames, screens, and tracks to increase the amount of time your door should serve you.
Area We Serve
Our company "24hr Door and Frame Service" is proud to serve almost all South Florida:
Frequently Asked Questions
Do you provide free estimates?
What are some of the common sliding door problems?
Will you repair my door on weekends?
Where is your service area?