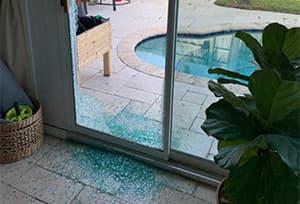 Broken or shattered glass does not bode well and can put you and your family in danger. 24hr Door and Frame Service will help you take care of sliding door glass repair in an emergency.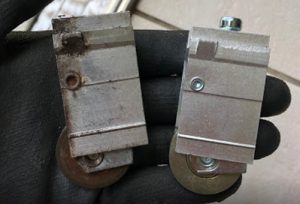 There can be many reasons for broken sliding door rollers. The 24hr Door and Frame Service experts are on their way and will handle any problem to get sliding doors back up to speed.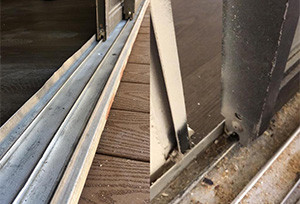 24hr Door and Frame Service is equipped with everything needed for an emergency, and professional repair of broken sliding door tracks. Don't delay any longer and contact us.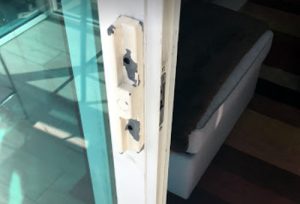 Have a problem with your sliding door lock? 24hr Door and Frame Service has the solution. Annual maintenance, replacement, or repair of a broken sliding door lock - our experts can handle it all.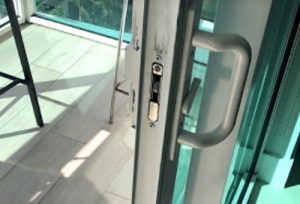 A damaged sliding door handle seriously reduces the security of your home, but with the 24hr Door and Frame Service professionals and its excellent sliding door repair service, you can worry no more.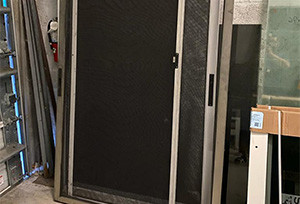 Does your window or screen door need a replacement or emergency repair? 24hr Door and Frame Service handles all types of sliding screen door repairs like no one else.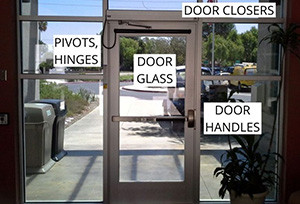 Worried about the safety of company's property? Troubles with commercial sliding doors? 24hr Door and Frame Service works around the clock to give you the best commercial door repair service.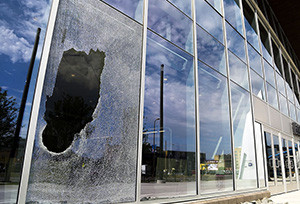 The glass in commercial sliding doors is the most vulnerable part. But with the knowledge and experience of 24hr Door and Frame Service, any breakdown is fixable.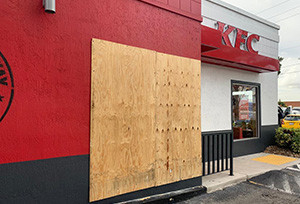 The 24hr Door and Frame Service team is always ready to help. We provide 24hr emergency window opening service to homes and commercial establishments throughout South Florida.
Sliding Glass Door Repair in Orlando
Are you in search of accredited, dependable professionals for all your sliding glass door repair needs? At 24hr Door and Frame Service, we house skilled technicians for this purpose. Our expert team will assist you at every stage to guarantee pleasing outcomes. Additionally, they will provide you with a precise cost estimate before initiating repairs, assisting you in investing wisely in high-quality components for new doors.
Who We Are
24hr Door and Frame Service offers Orlando property owners affordable commercial and residential work. We are a licensed, bonded, and insured locally-owned sliding glass door repair company with over a decade in the industry. We began operations commercially in 2010 and, over the years, have grown to provide the best solutions depending on the situation.
Our skilled technicians handle all sliding glass door-related issues, including panel-door rail replacement, high-quality patio door installation, exterior door screen & sliders maintenance, and broken door hinge replacement.
Call us today at (877) 999-6362, and let us handle all your mechanical concerns.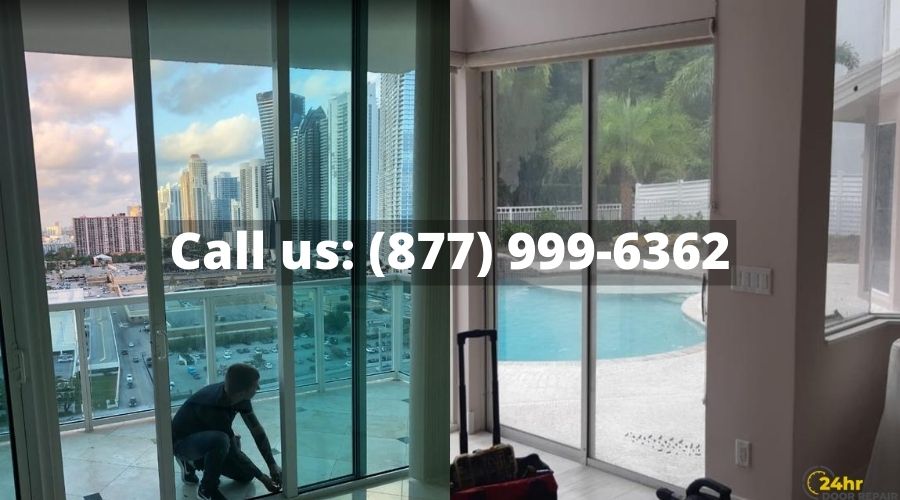 The Most Common Problems With Sliding Doors
You might think repairing your sliding windows and glass door is easy. However, that is only the case in some situations. Trying to repair a sliding glass door can be a dangerous operation. Apart from lacking the necessary tools, knowledge, or skills, you can accidentally cut yourself. Also, you might damage the glass and incur significant losses.
Therefore, choosing a professional and reliable service sliding glass door repair company is the best solution. At 24hr Door and Frame Service, we are licensed & insured and have all the essential tools to get the job done professionally.
These are the prevalent issues associated with sliding doors.
Shattered glass. Cracked or broken panorama glass pane is dangerous and can cause severe injuries to your children or pets. So, it is advisable to call the experts and let them replace the glass with new and durable ones. We understand different glass door designs at 24hr Door and Frame Service, including glass on bypass doors, telescopic sliding doors, and bi-fold doors.
Doors that jump off track. A door that jumps off its track will often be hard to open. Moreover, the door might deteriorate further if it stick every time smbd try to open it. Luckily, we guarantee a diagnosis of the problem. Get your sliding door repaired to start sliding smoothly.
Worn-out Tracks. Humidity, rain, and salt accumulation along sliding glass door tracks are the few common problems causing noisy doors and wobbly frames in stainless steel glass doors. Worn-out or old tracks can also prevent a door to slide with one finger smoothly. Contacting us today will ensure you roll your door with minimal effort.
Loose glass door parts. Most aluminum rails extending 6ft, 8ft, 12ft lengths usually become weak if you fail to tighten the frame screws or install the door poorly.
Faulty locks. Faulty locks need to be replaced immediately. Remember that aggressive rides and continuous opening and closing of a sliding door can cause faulty locks. Malfunctioning latch assembly/lock assembly and dry or dirty strike plates are also common causes of defective locks. Call our expert team today for a free estimate to fix your sliding door.
Damaged Rollers. If your door glided smoothly, it probably was the smooth surface along the rails. Unfortunately, the rollers can misalign with the rails, or even dirt & debris can clog the rails, causing aggressive rides.
Fortunately, we will troubleshoot all damaged rollers, tighten all loose accessories, and reinstall slack wheels to give your glass door new life.
Other Sliding Door Services
At 24hr Door and Frame Service, we provide swift solutions to all branded sliding glass doors. We will get your balcony sliders to normal functioning to heighten your outdoor space.
Here is some information about our services and how we fix sliding glass door issues.
Track Cleaning. Cleaning the tracks on a glass door with the correct tools and utilities ensures more extended service. Unfortunately, debris, dirt, or mud will slowly accumulate along the trails and jam the door. So, our door experts will use greasing supplies and high-quality vacuum cleaners to suck the dirt and make your patio doors slide like new ones. We will also use soft clothes to clean the tracks for unique glass doors to avoid further complications.
Sliding door rollers, track, handles, and lock repair. Our technicians will install new rollers and repair damaged tracks for different brands of doors using top-quality mallets and screwdrivers. Also, they will maintain old or rusted locks and weak/faulty rollers using certified grease. Lastly, we will repair clamp-style, flush mount, mortise-style patio, and hook-style handles.
Sliding Screen Door repair & installation. We have skilled technicians who understand sliding doors troubleshooting and repair. They will offer the best solution at reasonable charges. We will replace Low-emissivity or regular glass panels, Dual plane & single pane glass, non-standard & standard glass size panels, and Impact glass. Dismantling and installing new weather-stripping and panel seal screens. We use top-quality groove cutters, screen repair tapes, vertical adjustment keys, and glass holders.
Emergency commercial and residential glass & door repairs. Broken glass for commercial doors can be a nightmare. Therefore you need a fast and reliable emergency-response solution. Fortunately, at 24hr Door and Frame Service, we provide same-day repairs for commercial glass and door repair services. We also include swift and affordable glass board-up services. The price we quote over the phone depends on the size, type of glass, and a number of opening panels.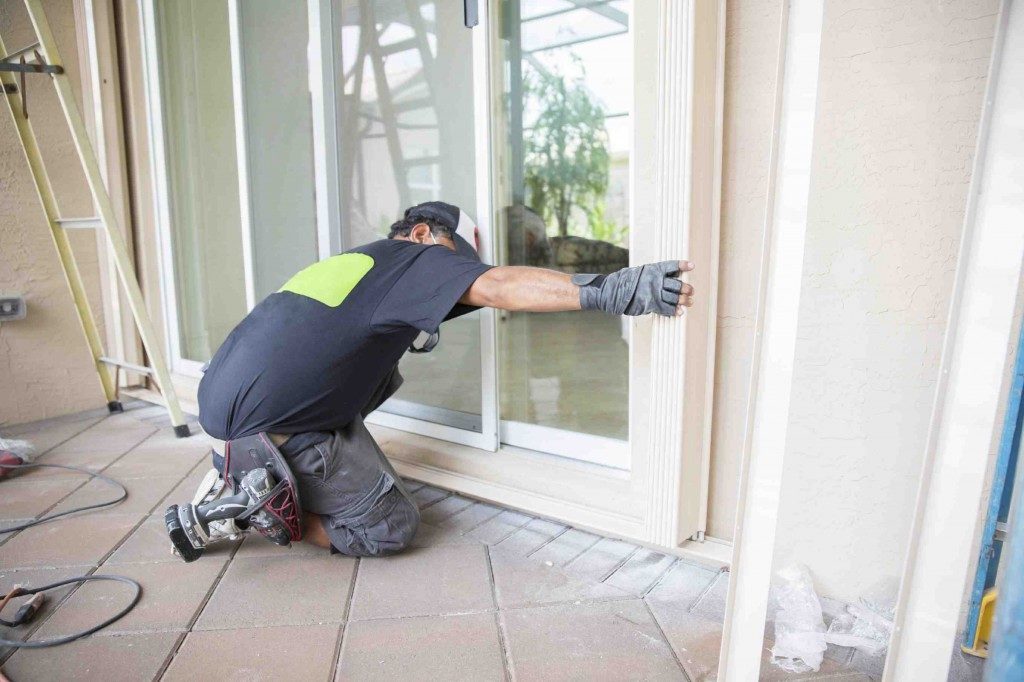 Why Choose Our Company
For over a decade, we have offered high-quality, affordable, certified glass door repair services for residents in Orlando, Florida. We use our branded vehicles for all emergency responses. Contact us today at (877) 999-6362 if you have concerns about sliding door movement or locking systems. We are available 24 hours and seven days a week.
Our specialists deliver high-quality services and specialized repair kits to ensure pleasing outcomes for all door repair challenges. Reach out to our technical staff if you experience problems with your patio sliding door. We will attempt to diagnose the issue via a phone call. However, for more complex repairs, we will schedule a visit to your home.
Save time and use our services today!
Area We Serve
Our company "24hr Door and Frame Service" is proud to serve almost all South Florida:
Frequently Asked Questions
Do you provide free estimates?
What are some of the common sliding door problems?
Will you repair my door on weekends?
Where is your service area?